Gerard Basil Stripling | BRONZE PAPER AIRPLANE
$

1,100.00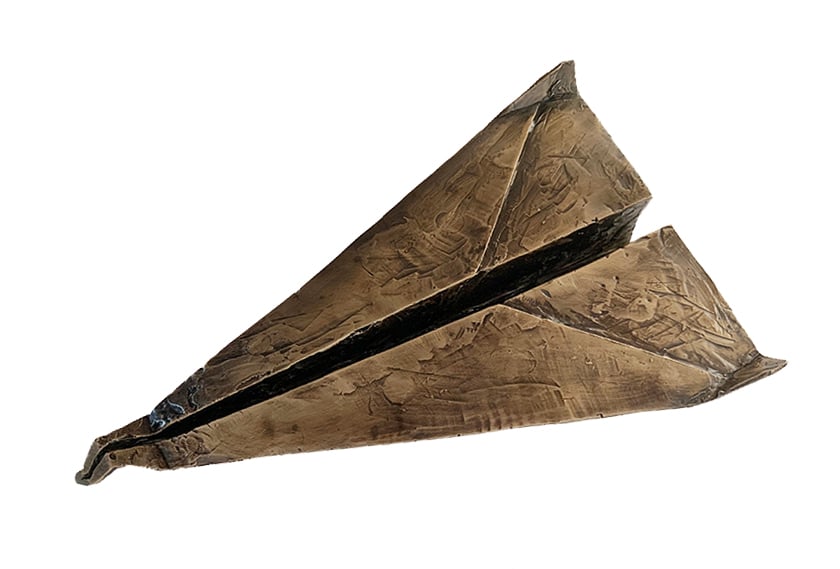 2 1/2" - 3" tall x 8 - 9" long x 6" wide | hand cast bronze airplane, tabletop
Comes in a birch box with a plaque signed by the artist
MORE FROM THIS ARTIST


PAY ONLY 10% TODAY WITH ART MONEY
10 payments. 10 months. No interest. Choose the option "pay with Art Money" and pay a 10% deposit. We will then contact you to set up payments.
More Information
ABOUT THIS WORK
Gerard Basil Stripling's bronze paper airplanes are an homage to creativity and perseverance. They are inspired by the 200 plus airplane designs he and his son made together as he grew up, each with its own design to help it fly further. The impossibility of a bronze paper airplane is a belief in the impossible. A leap of faith. A reminder never to give up and stop believing. They are meant to be held and played with as we toy with ideas and keep at it until our imaginations fly.
ABOUT GERARD BASIL STRIPLING
Gerard Basil Stripling is a sculptor and fabricator that specializes in making dreams come into reality with a focus on contrasting textures and high-flying ideas. Starting his creative life as a costume designer for the music industry, Basil traveled the world, collecting experiences that would eventually seep into the dreamscapes he would begin creating in bronze, stone, and wood. He has become a master at casting and carving in a continued effort to master the images in the head.
A resident of Laguna Beach, Basil splits his time between the studio and supporting a number of community projects. He has received several awards for his work and has been commissioned for a number of public works in the Southern California area as well as private projects. American Style Magazine listed Basil as one of the artists to watch in 2008. They were not wrong.
SHIPPING
For International Shipping rates or special crating services, we will contact you after purchase for an estimate.